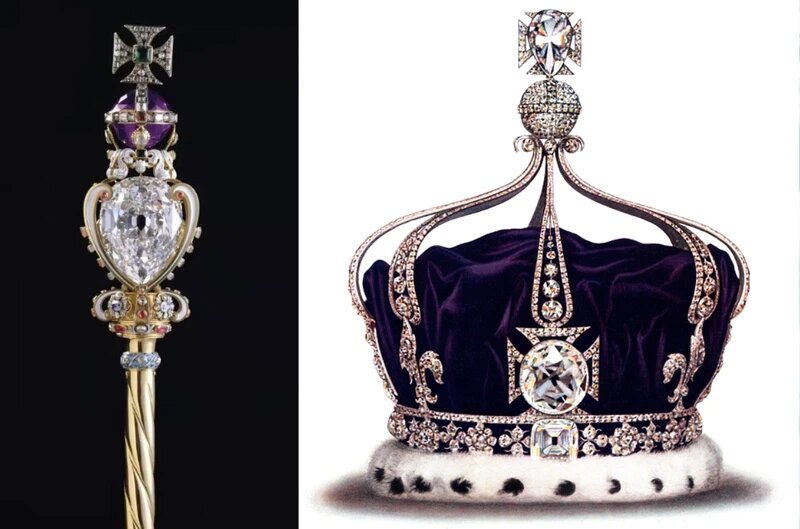 On 6 May at Westminster Abbey, King Charles and Queen Camilla will be crowned with five Cullinan diamonds from South Africa. We know.
The royal coronation this weekend will use five Cullinan diamond jewels.
DailyMail says the jewels are Coronation Regalia. Coronation will use Regalia.
The Sovereign's Sceptre, Imperial State Crown, and Queen Camilla's crown will show the set.
The Cullinan diamond, discovered in 1905 in the Premier Mine outside Pretoria, South Africa, weighed half a kg and was ten cm long.
The Cullinan diamond is now nine smaller fragments. The publication adds that three of these will dazzle on Queen Camilla's crown at her coronation on Saturday.
After it's discovery the diamond was believed to be too valuable to keep in South Africa. It was, according to reports, transported to London.
In 1907 on his 66th birthday, King Edward VII officially accepted the diamond as a token of South Africa's loyalty to their then-British monarch.
The diamond was then split into nine principal pieces, which took eight months.
The individual diamonds are now part of the Royal Family's prized jewels.
Five of the nine Cullinan diamonds will be on full display during King Charles III and Queen Consort Camilla's coronation.
Look out for our longer film tomorrow to learn more about the important symbolic role of the Sovereign's Sceptre with Cross within the #Coronation ceremony. https://t.co/GEImDG7s3c pic.twitter.com/S2tF0tjYJS

— Royal Collection Trust (@RCT) May 2, 2023
Often referred to as the Second Star of Africa, the Cullinan II is set below Black Prince's Ruby at the front of the Imperial State Crown. The St Edward's Crown will replace the Imperial State Crown during the Coronation ceremony.
The King will wear the St Edward's Crown as he departs from Westminster Abbey in the coronation procession back to Buckingham Palace.
Imperial State Crown

This dazzling crown, set with 2,868 diamonds and famous jewels, like the Black Prince's Ruby, St Edward's Sapphire, the Cullinan II diamond and Queen Elizabeth I's earrings is worn by the monarch during the recess at the end of the coronation service. pic.twitter.com/1VU6gpNw0z

— royal courtier (@CourtierRoyal) April 3, 2023
The Cullinan III, a 94.4-carat pear-shaped diamond, and the Cullinan IV, a 63.6-carat cushion-shaped diamond, are usually seen as part of a brooch.
For the coronation, they will be set in Queen Consort Camilla's coronation crown. The Cullinan V, a triangular-pear cut diamond weighing 18.80 carats will also be featured. The trio of diamonds will replace the highly controversial Koh-i-Noor diamond.
Queen Mary's Crown will have jewel tributes to Queen Elizabeth II for the Coronation of Queen Camilla.

The Crown will be set with the Cullinan III, IV and V diamonds which were often worn by Her Late Majesty as brooches. pic.twitter.com/4nt3aW6WS9

— Coronation News & Updates (@Coronation2023) May 4, 2023