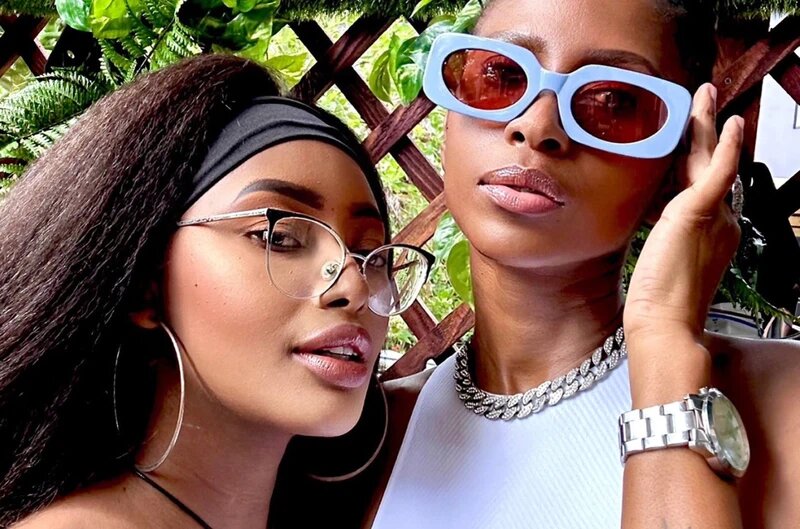 Sinazo Yolwa, a media personality, and her girlfriend, Nolali, took a much-needed "ShotLeft" during their recent baecation.
INSIDE SINAZO YOLWA'S BEACH BAECATION
When media personality Sinazo Yolwa and her girlfriend Nolali go on vacation to celebrate their love, they go all out.
The couple got away from the hectic city life to relax and unwind at the beach.
Yolwa took to social media to share photos from their baecation in Kenton-on-Sea, where they recently enjoyed good food, romantic beach picnics, and relaxing spa sessions.
The couple who recently celebrated their two month anniversary spent some time relaxing on the beach, enjoying good food, and more, TimesLive reports.
The couple met on the first of January after
"Weekend Recap: We took a little ShotLeft to Kenton-on-Sea for 2 nights. It's a quaint and cosy little getaway with amazing ocean views, and everything (beach, shops, restaurants) is a short walk away!" Yolwa captioned a video she shared on Instagram.
She also posted a few pics to Twitter.
Spa day 😁 pic.twitter.com/Pd5deVV0DS

— 𝙳𝚘𝚖𝚖𝚎 𝙿𝚎𝚛𝚒𝚐𝚗𝚘𝚗 (@SinazoYolwa) March 11, 2023
We finally dragged ourselves out of bed and made it to lunch 😊 pic.twitter.com/eUJyI2L0lS

— 𝙳𝚘𝚖𝚖𝚎 𝙿𝚎𝚛𝚒𝚐𝚗𝚘𝚗 (@SinazoYolwa) March 12, 2023
Candlelit dinner: Tagliatelle carbonara with a de-alcoholised Sauvignon Blanc 🥰 pic.twitter.com/srjGzO1T4G

— 𝙳𝚘𝚖𝚖𝚎 𝙿𝚎𝚛𝚒𝚐𝚗𝚘𝚗 (@SinazoYolwa) March 10, 2023
Missing her already 🥺

*The End* pic.twitter.com/CgyXwHoSUq

— 𝙳𝚘𝚖𝚖𝚎 𝙿𝚎𝚛𝚒𝚐𝚗𝚘𝚗 (@SinazoYolwa) March 12, 2023
FANS ARE LOVING THE COUPLE'S LOVE
Fans of the couple soon took to Twitter to celebrate their love.
"LoveLivesHere 😍," one follower wrote.
"We love you…. ♥️🫶♥️," another added.
"What bliss! 🥰," a third wrote.
Although fans were initially taken aback by how quickly the couple's relationship got serious, Yolwa is all in and even met up with her new in-laws.
She took to social media to share the moment they met.
Sundays are for bonding with my mother in law 🥰 pic.twitter.com/5ubIULhnVA

— 𝙳𝚘𝚖𝚖𝚎 𝙿𝚎𝚛𝚒𝚐𝚗𝚘𝚗 (@SinazoYolwa) February 12, 2023