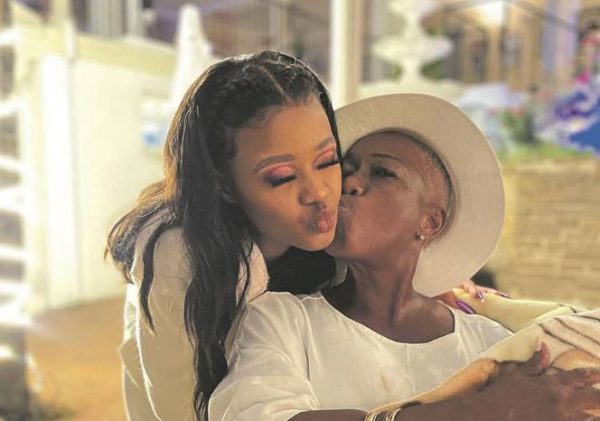 Babes Wodumo began as a young widow honoring her husband's life. dancing and having fun. Social media users criticized her for being too excessive at her mother-in-funeral. law'
After viewing Babes Wodumo's dancing and twerking at Zamanguni Gumede's burial, many who defended her for dancing at Mandla 'Mampintsha' Maphumulo's memorial service and making an emotional eulogy with satire have changed their minds. Babes Wodumo and her family attended the burial despite allegations that they were barred.
On Saturday, January 21, she attended the service with a back dress and red hat. Babes' dancing near to Zama's coffin enraged social media users.
Here is the Video:
Babes Wodumo at her mother in law's funeral. pic.twitter.com/wpTNFJ1pq7

— MDN NEWS (@MDNnewss) January 22, 2023
Babes Wodumo dancing at the funeral of her late mamazala😒. pic.twitter.com/TGSIPmVQqm

— 𝚊𝚕𝚎𝚡 ™ (@AlexSithole) January 22, 2023
Social media users found this distateful:
Babes Wodumo's wild behavior is not appealing at all she is so disrespectful to the culture, families and humanity…

— Dr Maheya (@johny_theblessd) January 22, 2023
Babes Wodumo is having the time of her life😭😭😭😭

— Thendo Muloiwa (@MuloiwaThendo) January 22, 2023
Weeknd highlight: Babes Wodumo dancing infront of Mampintsha's mom coffin pic.twitter.com/AzcI8zUqz3

— MADUMETŠA (@TeffuJoy) January 23, 2023
If @BabesWodumo's parents, sister or son dies today She won't dance like she is being dancing lately – The universe will humble her one day and she will learn Respect and Decency #XRepo #DateMyFamily pic.twitter.com/Oz90iNQGNz

— [email protected] P👥 (@paile_jabu) January 23, 2023
We are in a bad shape as an African body. There's no way we can explain Babes Wodumo and not reflect it back on all of us.

Would u dance at your wife's funeral? Dance at your mother's funeral?

Is the next step to dance on top of the coffin itself? A group psychology gone bad.

— Bo Mbindwane (@mbindwane) January 23, 2023
Babes Wodumo really said I'll vosho on your grave mama

— La Matriarche 🇲🇺 (@AnaFourie) January 22, 2023
Someone tell Babes wodumo's parents to fetch their child . Things are not Looking good . 💔

— IG : @Slienky_ (@Slienky_) January 22, 2023
I guess we all deal with pain differently… Babes Wodumo at her mother in law's funeral. pic.twitter.com/TkBCLOFjwd

— Dj Calypso SA 🇿🇦 (@DjCalypsoMusic) January 23, 2023