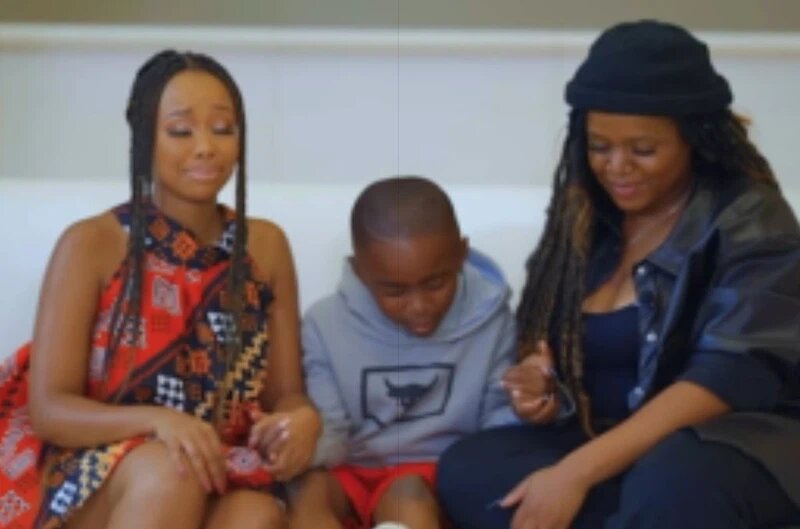 On Sunday, 29 January, Connie Ferguson's grandson, Ronewo, was asked to share a few words of inspiration in a video and decided to pull on the viewer's heartstrings with his "intense" prayer.
MZANSI IS IMPRESSED BY RENEWO'S MATURE PRAYER.
Lesedi's son decided to inspire other children with a heartfelt prayer during an interview with Candice Modiselle and Lesedi Mantsunyane-Ferguson on The Five Minute Call. The prayer revealed the little boy's wisdom and pure heart to viewers.
One of the viewers who responded after watching the video, which Connie Ferguson shared on Instagram, stated that the young man's wisdom astounded them.
"I cried🥺 So much wisdom and power❤️ I love him more," dumantando wrote.
Ronewo stole hearts in his prayer when he said,
"Can you guys copy what I am saying…
Dear Lord, I am thankful that I can wake up in the morning, not hurt by the spirits of evil. We rebuke them with all our hearts. Please keep us safe and wrap us around in your wings, we all have them, and we rebuke all evil spirits. Amen."
Modisello could be seen in total disbelief at the young boy's prayer. In Lesedi's defence, she revealed that Renewo "does that sometimes."
Taking to her social media account, Lesedi shared the clip of her son's prayer and captioned it,
"May Ro's prayer resonate with us all. May we be grateful for the lives we have and continue to protect ourselves and our loved ones. Happy Sunday 🌻♥️"
Connie also shared the clip to her Instagram and captioned it,
"Dear Lord, Thank you. Amen.🙏🏾❤️"
According to Briefly, the little boy's prayer has gone viral, and his faith has captured many hearts online.
TAKE A LOOK AT SOME OF MZANSI'S REACTIONS BELOW…
"This prayer 😢😢😢😢 thank you, Lord😍😍😍🙏🙏🙏🙏," winnie_tshaba wrote.
"Train them up in the ways of the Lord; they will never depart from it 😢 Glory to God on high!!! This is beautiful ❤️," philile1504 commented.
"Good God, please keep this young king and give him love and protect him… I love this young brother," mdukhekhe said.
"Whew! 🥺🥺🥺🥺❤️❤️❤️❤️❤️❤️❤️❤️ 🙏🏾🙏🏾🙏🏾🙏🏾🙏🏾," boity wrote.
"❤️❤️❤️❤️ Amen," shonisani_m