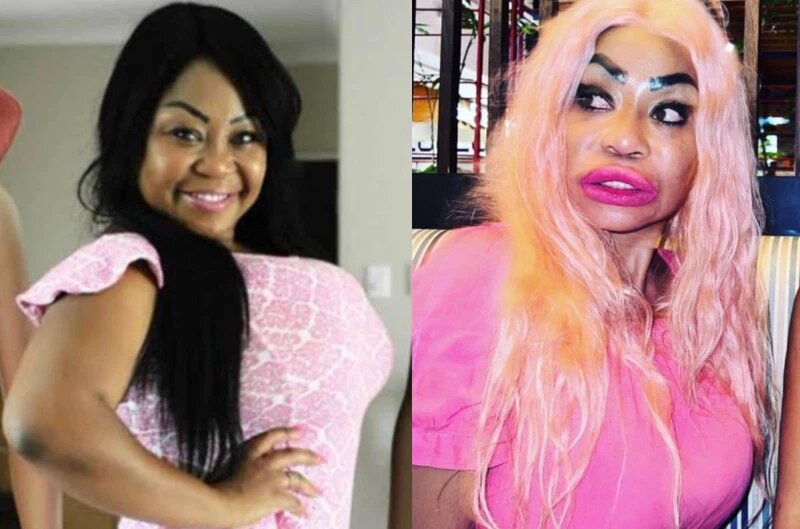 After putting old and fresh images of entrepreneur and reality TV star Barbie Brazil on his timelines, a Twitter user looking for answers from his online followers had his 2.1 million Twitter followers' mouths dropped and in stitches.
Barbie Brazil's given name Ennie Tembie Cleary's outward look appears to reveal little about her character and the journey she has taken to get to where she is today. She's shown to be a jack of all crafts on social media. She is a widow, the mother of a teenage son, and a serial entrepreneur.
Barbie Brazil made her television debut on the cooking reality show Come Dine With Me, where she captivated viewers with her strange pink cuisine. She also made news after crashing her pink SUV and posting photos of it online, according to Kaya FM.
Barbie Brazil's name was once again in the minds of netizens. This comes after a nefarious Twitter user reshared photos of the diva looking radically different and then asked Tweeps for their thoughts, writing,
"How can a person Transform soo much vele (really)?"
Needless to say, the comment section was ablaze. Tweeps had a field day busting all sorts of jokes about Barbie Brazil's new looks.
How can a person Transform soo much vele? pic.twitter.com/lRlS6vmYtp

— Man's NOT Barry Roux  (@AdvoBarryRoux) May 23, 2023
"The is very consistent with those kiwi polish door handle excuse of a brow! She is right not to wanna go to Limpopo, with the temperature there, the kiwi would melt and smudge on those wipers on her eyes," @23Thulz said.
"That's not a transformation that is deformation," @sirshadrackpo commented.
"Everyday @ ten past 4💉💉," @MnukwaMM reacted.
"Facialy she looks like Cruella from 101 dimensions… she used to be beautiful," @KK588885423Kk wrote.
"She actually spent money just to look ugly… Frame 1 is beautiful👌🏼👌🏼," @homulani replied.
Last frame 😳😳😳
Umlomo, the eyebrows, ikhanda 🙆‍♀️🙆‍♀️🙆‍♀️ pic.twitter.com/ooEZ9ultnn

— 𝐊𝐡𝐨𝐢𝐬𝐚𝐧 (@Khoisan_B) May 23, 2023
Frame 4 Chile 😭😭😭😭 pic.twitter.com/jQGlUC4zML

— Jennifer (@Jennife40360939) May 23, 2023
Ppl go through a lot out there pic.twitter.com/HRFHBT5P7v

— MissPinkieMiya (@Sbewuomuhle) May 23, 2023