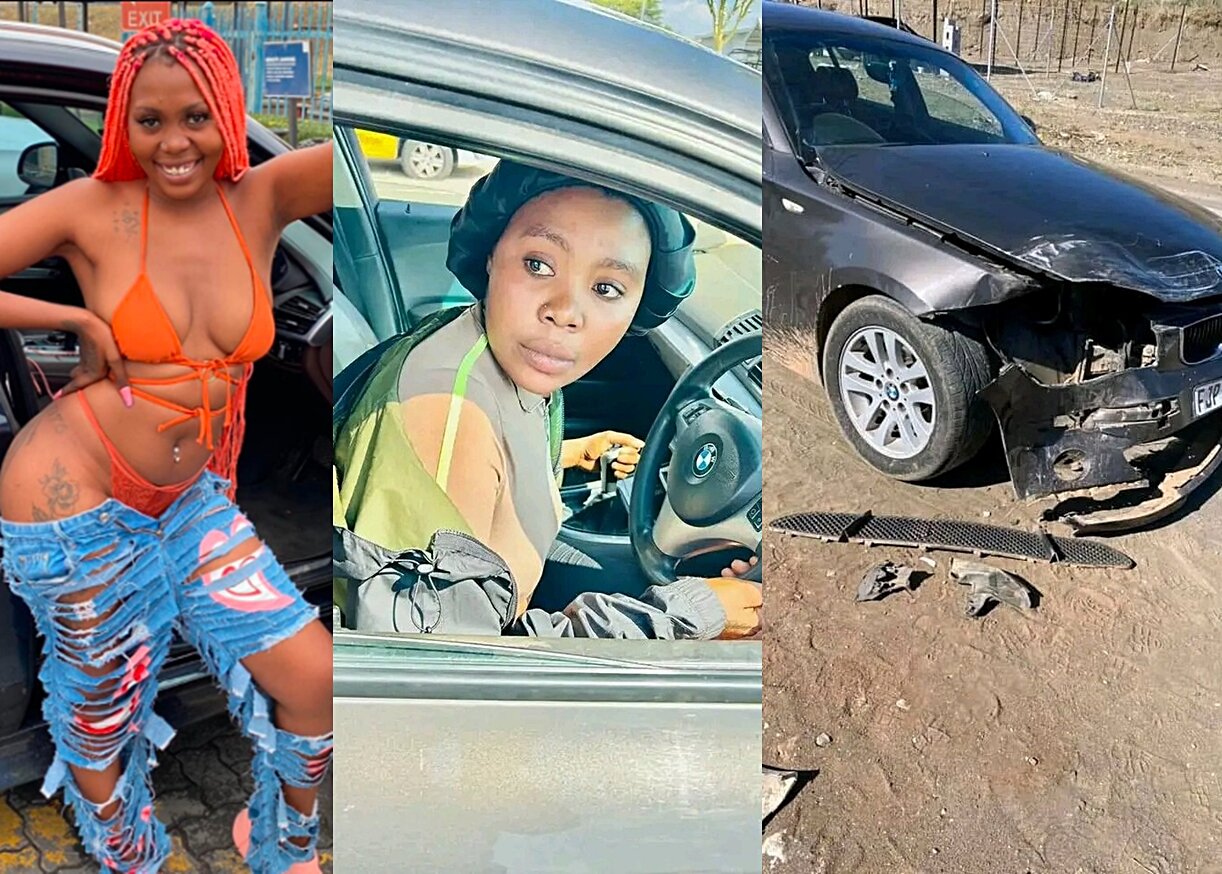 Queen Minaj, a well-known Ama2000 entertainer, was apparently involved in a car accident just days after purchasing her first BMW.
According to the report, she allegedly collided with another vehicle on the right side of the front of her BMW.
Queen Minaj, a Limpopo-born Ama2000 entertainer, told to her 500 000 Facebook followers that she nearly died in a car accident.
She shared pictures of her damaged BMW car and captioned her post: "Leng nrapedishe! ampese ke hwile" (pray for me, I almost died).
@MDNNEWS reported on social media that she bought her BMW in May and survived the car accident.
In the picture, the entertainer is seen sitting on the wheel and her eyes are filled with tears, visibly shaken by the unfortunate ordeal.
Queen minaj survives car accident. She bought this car last month.#MDNnews pic.twitter.com/zb65VaWYbZ

— MDN NEWS (@MDNnewss) June 10, 2023
Tweeps react:
@DRMaradonaMazwi: "Maponapona shem phela koloi ga e kwane le mapono (a car doesn't want a naked driver).
@Yogae11332246: "I hope paramedic didn't found her naked."
@Assistant_Chair: "O ka se reke license wa reka le BMW (you can't buy a licence and BMW). Shem ba loya MmaLepona mara mxm" (They bewitched her).
The publication earlier alleged that Ama2000 dancer Queen Minaj, like Zodwa Wabantu, makes money from live events. She became famous in 2022 after going around a mall partially naked (in tight denim bum shorts), with long pink braids, a crop top, and tattoos across her thighs.
She drew the attention of customers, who soon followed her around, giggling and snapping photos and videos of her.
She also confessed on the Limpopo Podcast that she enjoys the public attention she receives when she flaunts her half-naked body both online and offline.
Despite being known for wandering naked on the streets and publishing provocative posts on social media, she frequently shares her performances, music, and entrepreneurial ideas with her admirers on social media.
Driver ya go tshwara gear leaver so…asanka ya loka pic.twitter.com/iIlcl6u3Oh

— Thaps.. (@thapelo28137602) June 10, 2023
She will receive RAF 🔥🔥🔥

— LuckySmarty6 #40Bars (@LuckySmarty_1) June 10, 2023