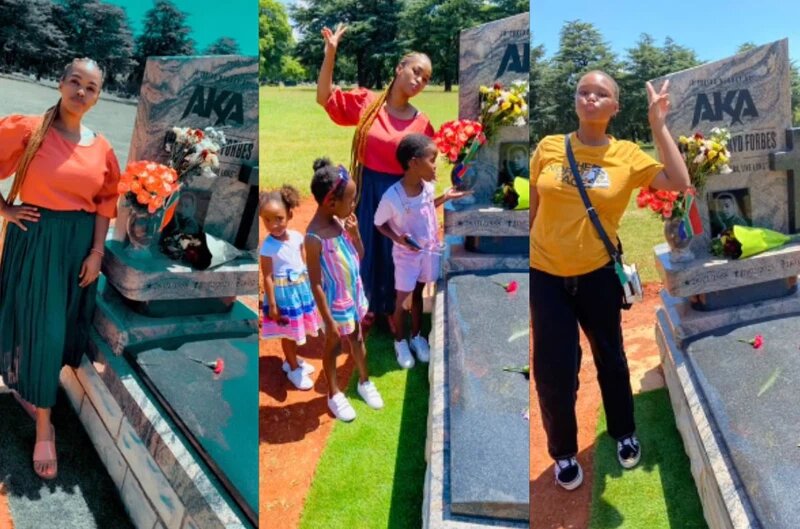 Following the horrific assassination of late slain rapper AKA—real name Kiernan Jarryd Forbes on 10 February in Durban, fans have been flocking to his grave and posing next to his tombstone, leaving Mzansi torn as to whether this was disrespectful or not.
'HE WAS LOVED': FANS VISIT AKA'S GRAVE
Some of AKA's fans proved that the late slain rapper might be gone, but he was definitely not forgotten.
He was laid to rest at Heroes Acres, at the Westpark Cemetery in Johannesburg.
Several fans have been spotted visiting the Fela In Versace hitmaker and taking pictures of themselves next to his tombstone.
After seeing the people posing next to AKA's grave online, social media users were conflicted and could not decide whether it was disrespectful or not to be visiting the gravesite of someone that was not their family member and communicated that the gravesite was a sacred place.
However, other online users cheered the fans on and pointed out that AKA was loved by many and also loved his fans.
I really don't know how to feel about this hey, this is the fourth tiktok I've seen this week. Forbes fam should have gone for a private cemetery🤷🏾‍♂️. pic.twitter.com/xyeXrKagcc

— thegreatoneZA (@ThegreatoneZa) March 14, 2023
I didn't c this coming

AKA's fans l guess 😭😭😭
Kiernan Forbes pic.twitter.com/49b6ZctCiY

— The Lord Of The Wings( Lisa) Arsenal Biggest Fan🏐 (@WhyUfikelate) March 12, 2023
SHOCKING | Grave digger under fire for recording AKA empty grave during the set up for the slain Superstar and posting it on TikTok. #RIPAKA #RIPakaworldwide SIM DOPE Zinhle NOTA Cassper pic.twitter.com/9bHOh3lj9s

— Charles Banks (@CBanksOfficial) February 20, 2023
It has been over a month since AKA's assassination, and no arrests have been made.
However, according to News24, Minister of Police Bheki Cele was said to have shared that several cell phones from suspects have been collected and said they were "cracking the case."
TAKE A LOOK AT WHAT MZANSI THOUGHT ABOUT THE FANS VISITING THE RAPPER'S GRAVE BELOW…
"It's getting weird," @KhumaloDanixa thought.
"AKA was for everyone. Don't be jealous,"@lebohangbokako said.
"He was hounded by fans looking to take pics when he was alive, the fans are still showing the same energy… true definition of "gone but not forgotten". I would embrace this if I was the Forbes family," @thulasizwe wrote.
"Me personally as a parent, this would console me ukuthi[to know that] my kid left an impact and he was loved and I don't have to worry about going to the grave every day because I know people who love him go visit him too…unless if the grave is being vandalised," @Fikz_the_Cook commented.
You'd find that they have never downloaded any of his songs. Don't even know his songs yet they out here taking videos for clicks🤦🤦

— Ke Nna Tumi (@tumi_kennaTumi) March 15, 2023
But ppl still visit mandela's grave, let ppl feel closer to him as they wish ❤️❤️❤️

— ||OnlyFans||LeboTheSexpert|| (@Conny_ChoeX) March 14, 2023